[foogallery id="4939″]
EHOS' race night earlier in the year was a huge success with a massive thanks to all that attended and supported as well as our social committee and particularly Mr Matt Hudson.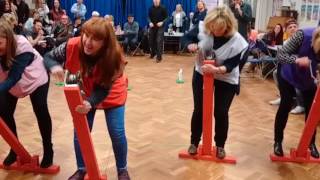 Thanks to Matt and the team the evening was enjoyed by all and raised a lot of funds for EHOS to purchase props and costumes (and a wig ;))  for Happy Days.
The evening was a great way for everyone to get involved in "racing" horses and getting the chance to be Frankie Dettori for the night.
Using the power and speed of reeling in a horse the races were always tight (well almost) and all the spectators were at the side cheering on the jockeys to the finishing line.
As always the food was very well received (thanks Helen) and massive thanks to Laura and St Clements for the perfect venue.
Please come and support our next social/fundraiser  "Quiz Knight" on the 23rd July, where the money raised will go towards Spamalot.
If you have any ideas about future social/fundraisers please don't hesitate to send us a message to info@ehos.co.uk