[foogallery id="4825″]
Bursting with imagination and wit and presented by just four actors, Bouncers is an outrageous and hilarious parody of the disco scene.
The four brutish bouncers of the title portray over twenty different characters as we are invited for a night out on the town.
We see them as giggly girls and lads on the make preparing for the big night out as we follow their progress to the disco floor.
There, we also meet an entire cross-section of disco-goers, including Hooray Henrys, pogoing punks and drunken slobs!
The evening's events arc set against the tatty glitzy glamour, flashing lights and pulsating beat of the night-club scene.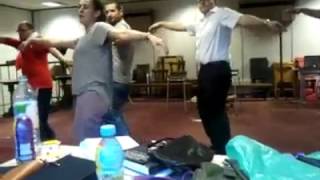 WHEN AND WHERE
Friday 7th October – Saturday 8th October 2011
Victoria Hall Theatre
All performances start at 20:00
CAST
| | |
| --- | --- |
| Lucky Eric | Matt Hudson |
| Judd | Daniel Goode |
| Les | Marco Ward |
| Ralph | Alex Budd |
BEHIND THE SCENES
| | |
| --- | --- |
| Director | Hailey Budd |
| Production Assistant & Choreographer | Kylie Hollingsworth |
| Lighting | Matt Hudson & Brad Boxall |
| Sound | Jo Hudson |
| Box Office | Helen Fruin |
| Programme | Marco Ward |
| Front of House | Sue Goode |