[foogallery-album id="2806″]What a fun week! EHOS have just recently finished their 126th show with the awesome 80's musical ' The wedding Singer' based on the smash hit Adam Sandler film by the same name.
The cast partied their way through wedding after wedding with big hair, big songs, and even bigger dance routines.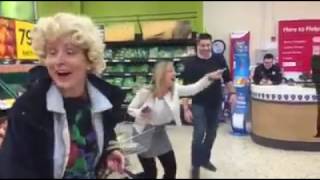 STORY
It's 1985 and rock-star wannabe Robbie Heart, who still lives in his grandmother's basement, is New Jersey's favorite wedding singer.
He's the life of the party until his fiance, Linda, leaves him at the altar. Shot through the heart, Robbie is so distraught that he makes every wedding as disastrous as his own.
When he meets an Julia, an admiring young waitress, Robbie falls madly in love. The only trouble is that Julia is about to be married to a Wall Street shark, and unless Robbie can pull off the performance of a decade, the girl of his dreams will be gone forever.
With a score that pays loving homage to the pop songs of the 1980s, The Wedding Singer takes us back to a time when hair was big, greed was good, collars were up, and a wedding singer might just have been the coolest guy in the room.
PRODUCTION TEAM
| | |
| --- | --- |
| DIRECTOR | Beki Flanagan |
| MUSICAL DIRECTOR | Allison Parris |
| CHOREOGRAPHER | Kerry Stone |
CAST
| | |
| --- | --- |
| ROBBIE | James Kenneth |
| JULIA | Gemma Pobjoy |
| SAMMY | Haydn Boxall |
| HOLLIE | Sarah Comerford |
| GEORGE | Ian Greenwood |
| LINDA | Amy Barnes |
| GLEN | Lewis Harrison-Baker |
| ANGIE | Joanna Rayfield Hunter |
| ROSIE | Susan Finn |
| SINGING CAMEOS | Michael Champness-d'abreu, Abby Clark, Nigel Fruin, Tim Clark, Michelle Fisher, Carmel Ames, Georgia Grace Mardon, Cydney Atkinson, Nicola Thomas |
| PRINCIPLE DANCERS | Susie Greenslade, Kylie Boxall, Chloe-lee Frazer, Keely-Ellis Frazer, Megan Hunter, Katie Parker |